Hey Productizers- This is a special and more in-depth episode where I go deeper to breakdown the Adzombies business. I actually bought their service as a customer and below is my full report back on what I was able to dig up.
— Tyler
Owner: Ken Moskowitz
Website: https://www.adzombies.com
Email: ken@adzombies.com
Company Linkedin: http://linkedin.com/company/adzombies
Personal LinkedIn: https://www.linkedin.com/in/spankymoskowitz/
Bootstrapped: Yes
Estimated Traffic: N/A
Industry Focus: Agencies & Small Business
Interviewed: Yes
Irresistible Offer: 100% Satisfaction Guarantee
Location: Mesa, AZ
MRR: $600k -$800k +/-
Service Type: Copywriting Services
Starting Price: $49.00 one-time or $99/month
Short Description: On-demand creative copywriting services for Agencies and small businesses.
Productized Breakdown:
I have been a huge fan of Ad Zombies for a while now so I was thrilled to feature them in this first breakdown. We will be breaking down their operations, funnel, sales, marketing, and providing you access to everything I find.I will be literally signing up and using each focused company's services as a real customer to get the full experience. My goal is to make these as valuable, and helpful as possible.
What can you learn, take away, and then implement in your service business from these types of breakdowns? My hope is a lot.
Your feedback on what you want to see more of, less of, etc is vital so please feel free to comment below so I can continue to improve these as I create them.
Let's dive in!
--Tyler
Interview:
Here is the interview I did with Ken where we sat down for about 30-min to discuss more of his story, and where they are at as a company in 2020.
Episode Outline:
Productizing copywriting for the masses
How the business started from helping someone in a Facebook Group. You never know how far genuinely helping other people would go.
Color-coding emails, hiring the first employee, and getting an operations person. What are the differences between English first writers and those who are not?
Don't put all your eggs in one basket, even in team structure! How does a global team survive better?
Ken coming into the COVID-19 crisis from a cruise ship! Why is he working at the office at this time?
The Founder's Plan: an offer no business owner would refuse from him these days, but no longer available. Treating business growth as a video game.
Ken is confident that Ad Zombies can handle being tripled in size. What about ten times the size? The gears that run the company.
Getting referrals through genuine relationships. Why isn't he a fan of affiliate marketing?
Overview: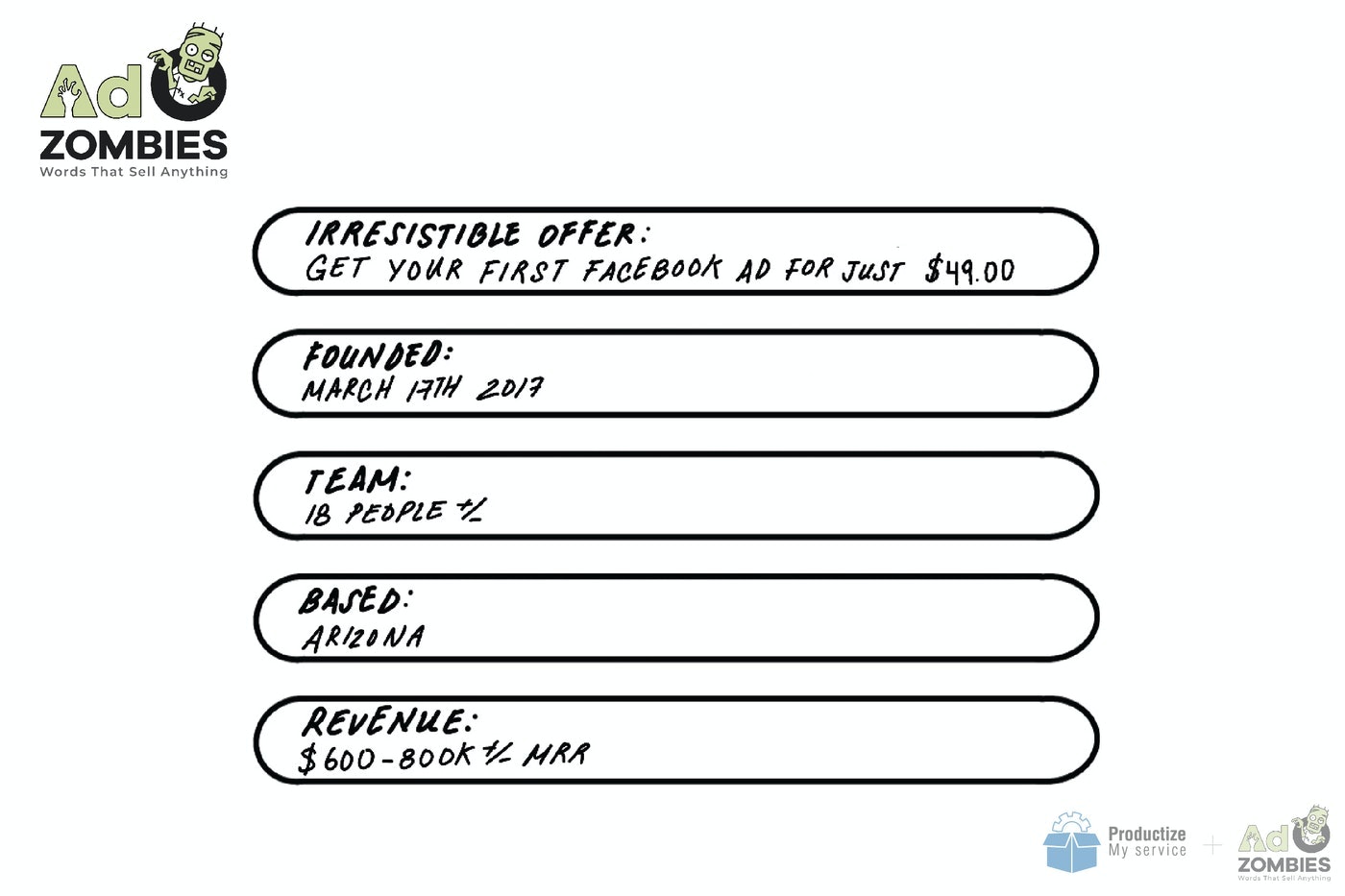 AdZombies was launched in 2017. Sometimes success stories begin with happy accidents. In a Facebook group, Ken helped out someone whose ad was performing very well. He rewrote the ad and gave him some feedback as to why he felt the ad wasn't performing. Sometime later, ten to fifteen people were interested in his skills, so offered to help anyone. As soon as he did that, it snowballed into a business! In just one week, Ad Zombies already had its first set of paid clients. From the act of helping a single random person online, Ken saw the opportunity and the need for his services which allowed him to productize his talent.
CPSO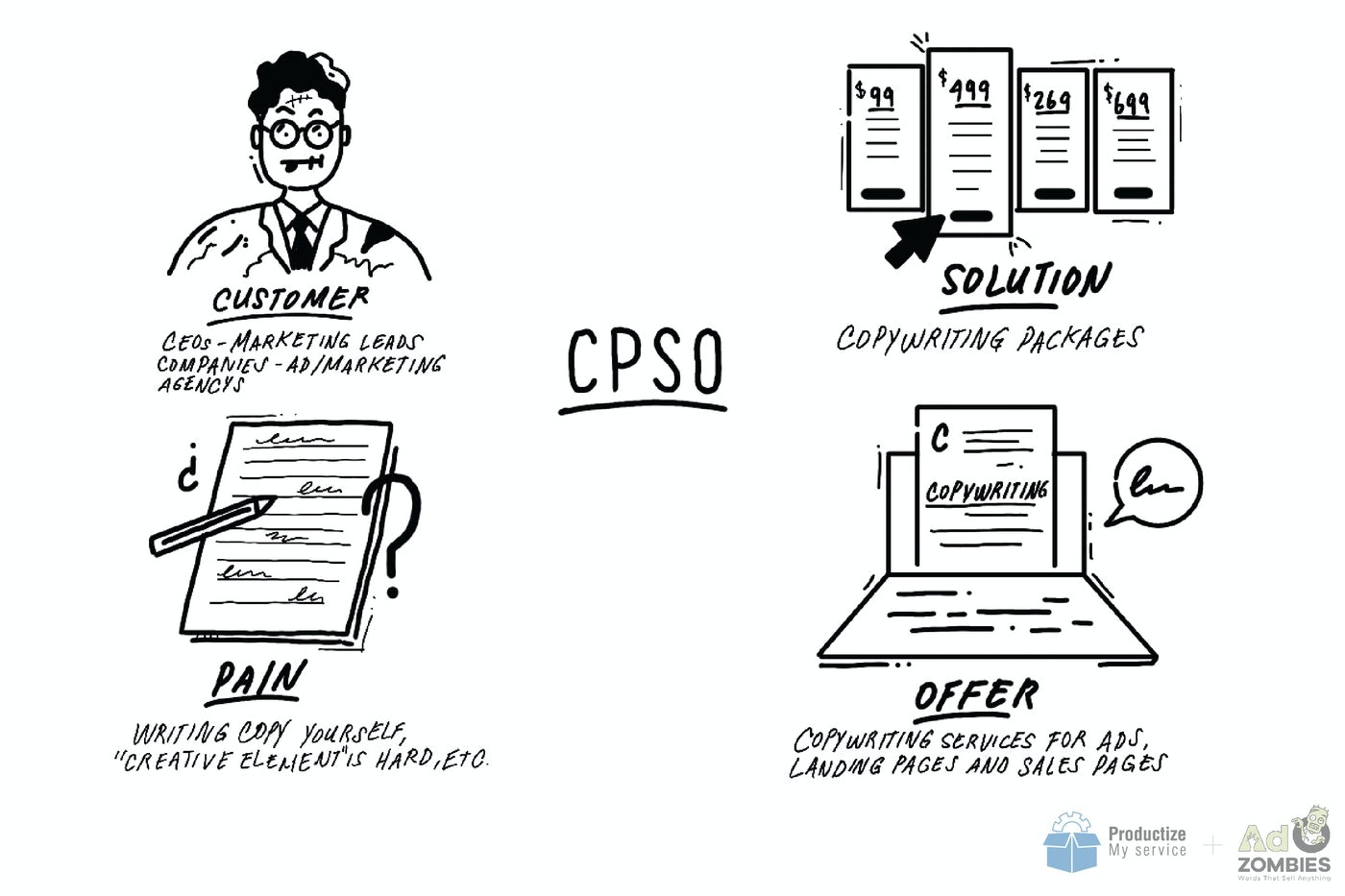 *This CPSO process was originally from my friend Dane Maxwell's new book Start from Zero which is a tremendous read that I would highly recommend.
Customer: CEO's, Marketing Leads, Companies, Ad/Marketing Agencies
Pain: Writing copy yourself is a creative drain. Doing it well and consistently is hard AF.
Solution: Done-for-you copywriting packages
Offer: Copywriting services for Ads, Landing pages, and Sales Pages.
Business Model: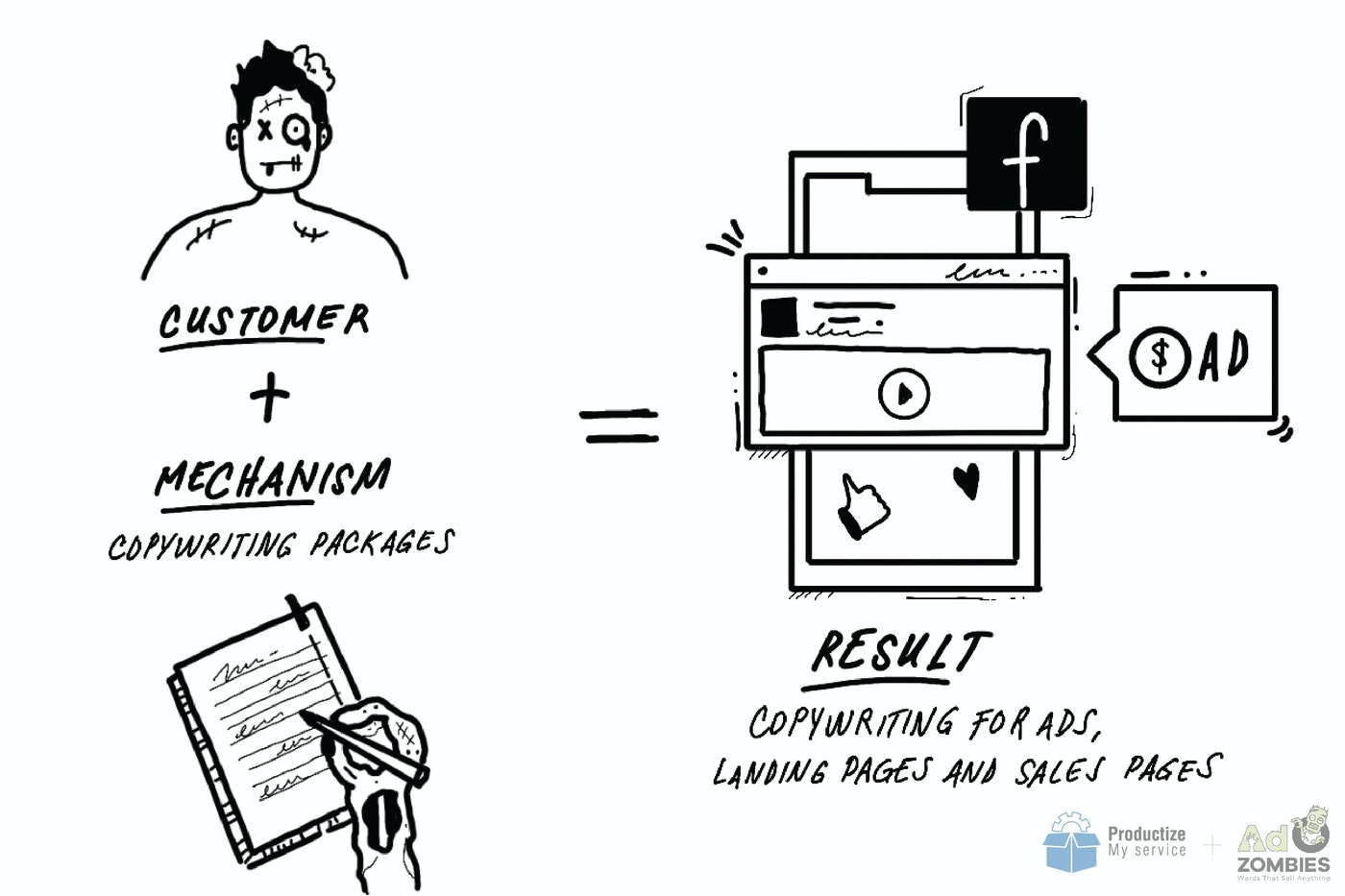 Ad Zombies offers productized copywriting services that are packaged as one-time orders or monthly subscriptions starting at $49. All payments are made upfront by customers and in USD right on the website via an eCommerce checkout model.
It was interesting as I dove in because I have seen a lot of one-person copywriting shops but no real good examples of anyone that have scaled their copywriting services. With content writing, there is a boatload of examples but copywriting is a different animal based on the creative nature of the service.
Many copywriters are extremely creative and determine much of their pricing based on the ROI of campaigns. Which is great but hard to scale past yourself and actually build an asset. Ad Zombies cracked the code here and have been able to create a system at scale to produce copy to the masses. A lot of learnings to be had.
Ad Zombies has a small in-person management team in Arizona, and then a network of freelance copywriters all over the world on a contract (1099) basis.
Overall, their model is pretty lean and mean which I really like.
After talking with Ken you could tell he really values people, being social, and doing fun creative things. This is probably why he values the office compared to running everything completely remotely (which they could do if they wanted). It is a good example of designing your business to be exactly what you want it to be.Do you love people and social situations? Then engineer it in your business. From afar Ken has really done a great job at this aspect.
AdZombie Service Offerings:
They say one way to grow is to make a lot of offers and Ad Zombies has a boatload of em. 20 to be exact. What I love is how simple everything is.Check them all out here: https://www.adzombies.com/store
I will dive more into this when I break down their core operations (below) but they literally just have a Squarespace shopping cart page that presents all their services with a check-out button. (I'll have to convince them to sign up for ManyRequets).
Special note: Don't be tempted to offer too many services out the gate. Although this example is a good representation of where AdZombies is at today that doesn' ' mean it is how they got there. Many companies start narrow, niche, and small and as you grow and gather more resources you will be able to add-on more services.
Core Tech Stack Overview:
This list of their current tech stack may change and wasn't everything they used but I narrowed down the list to what I felt to be the most notable for reference and most "vital" to run their business.
Streamyard for FB lives
Intercom for Website chat
Payments: Paypal + Stripe
FOMO for Recent purchases pop up on the website
Website built on Squarespace
Typeform for Customer intake forms
Manychat for FB messenger
Podio for Backend PM
Mailchimp for Email marketing
Operations: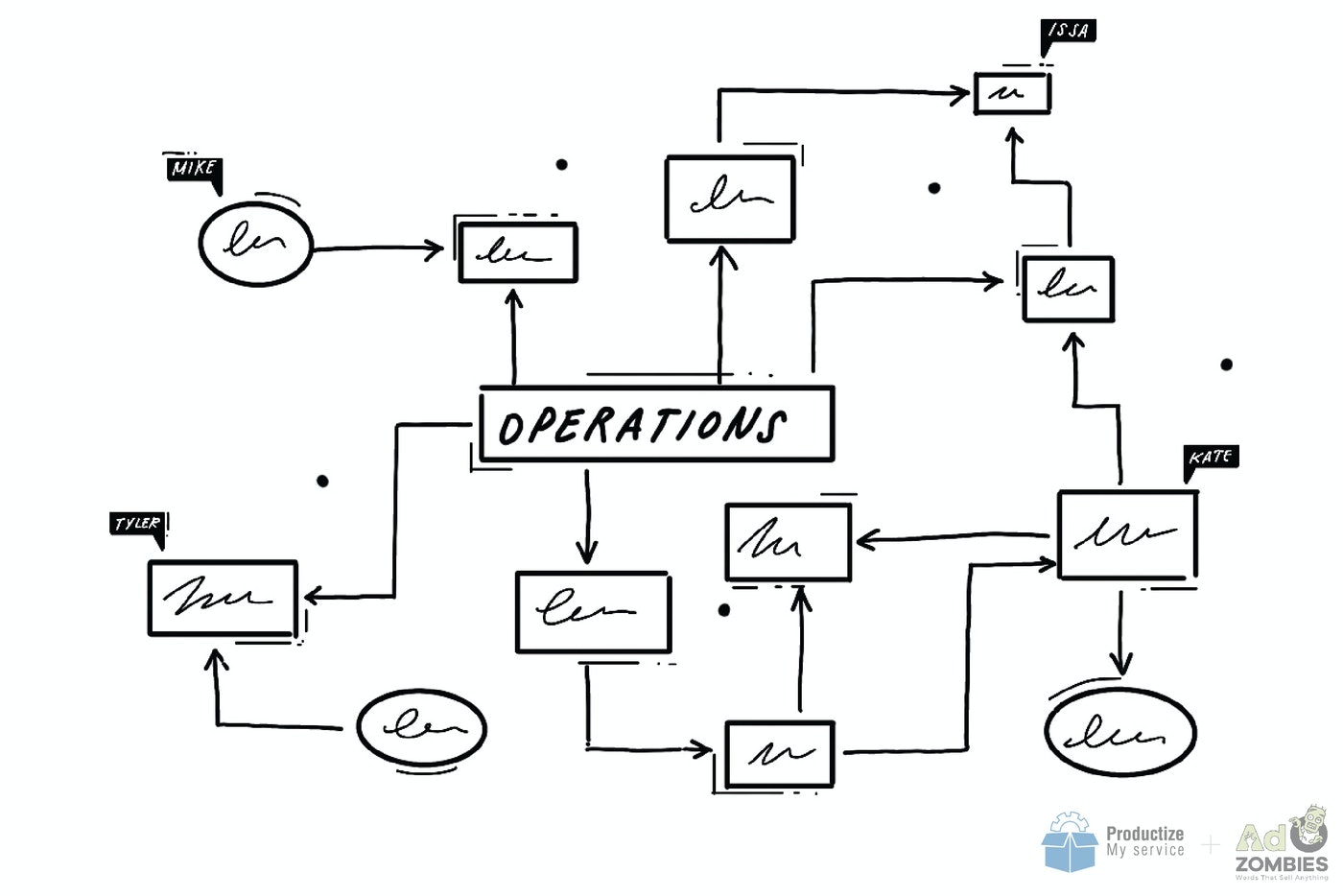 When we look at operations it is interesting to see how different businesses are built and structured. There is no shortage of tools here a company can leverage. Some of their choices to run everything don't make the most sense to me but it's "working" and they have been able to scale. So nothing but respect there.
Most of this research on how Ad Zombies operates is from my own independent research. Full disclosure I obviously didn't have a complete inside look into their business. But I was able to dig and get enough to paint a good picture. I also leveraged BuiltWith to pull some of this data which helped.
Let's start by looking at how Adzombies has set up their back-end operations.
Support Speed:
Responses during normal MST business hours. Support for me overall was somewhat slow to get back. But they eventually did. Probably a few hours after they said they would be back online. So something to consider improving.
The biggest takeaway from going over their funnel however was they didn't have a sales team in place and did no phone calls. I'm not sure if this was by design but I thought it was brilliant. They fall in a sweet spot where no phone closes and purchases directly on the website make total sense.
They don't do phone calls! NO sales team.
Sales & Marketing:
Here I looked at their current sales and marketing channels to find trends and try to get a better understanding of what is working for them.
From an advertising standpoint, they were running ads on LinkedIn + Facebook. From my research, much of their LinkedIn ads would drive traffic back to their website while their Facebook ads (for a majority) drove nearly everyone to recent and past blog posts that were structured in a more advertorial style with a CTA at the bottom of each article to buy.
Much of the approach you could tell has been shaped by Gary Vee. Which I love and follow as well so that is why I was able to pick up on the strategy so quickly. Very jab, jab, jab, right hook structure.
Ken is also very active on social media which is awesome to see. FB Lives, posts, engaging in comments, etc. As a CEO this is vital and I think he does a really great job at it. He seems to have a great "live" cadence and leverages Streamyard for this.
As far as content creation goes outside of social media it looks like their new blog/article content creation cadence is about every couple of weeks.
Here is a look and access to some of their current ads they are running right now.
Advertising:
When we look at lead magnets or front-end lead generation assets they really have two core things they leverage to generate email opt-ins. Which aren't pushed as well as the core part of their funnel which tells me they focus more on the content, brand, presence and just pushing people to buy rather than building a list to nurture then purchase. They didn't seem to have a back-end email nurturing sequence set up (I never got one) after opting in.
They leverage a Social Media Tracking Tool as well a guide + video on "The Secret Element to Great Ad Headlines" which I have broken down here.
Customer Journey: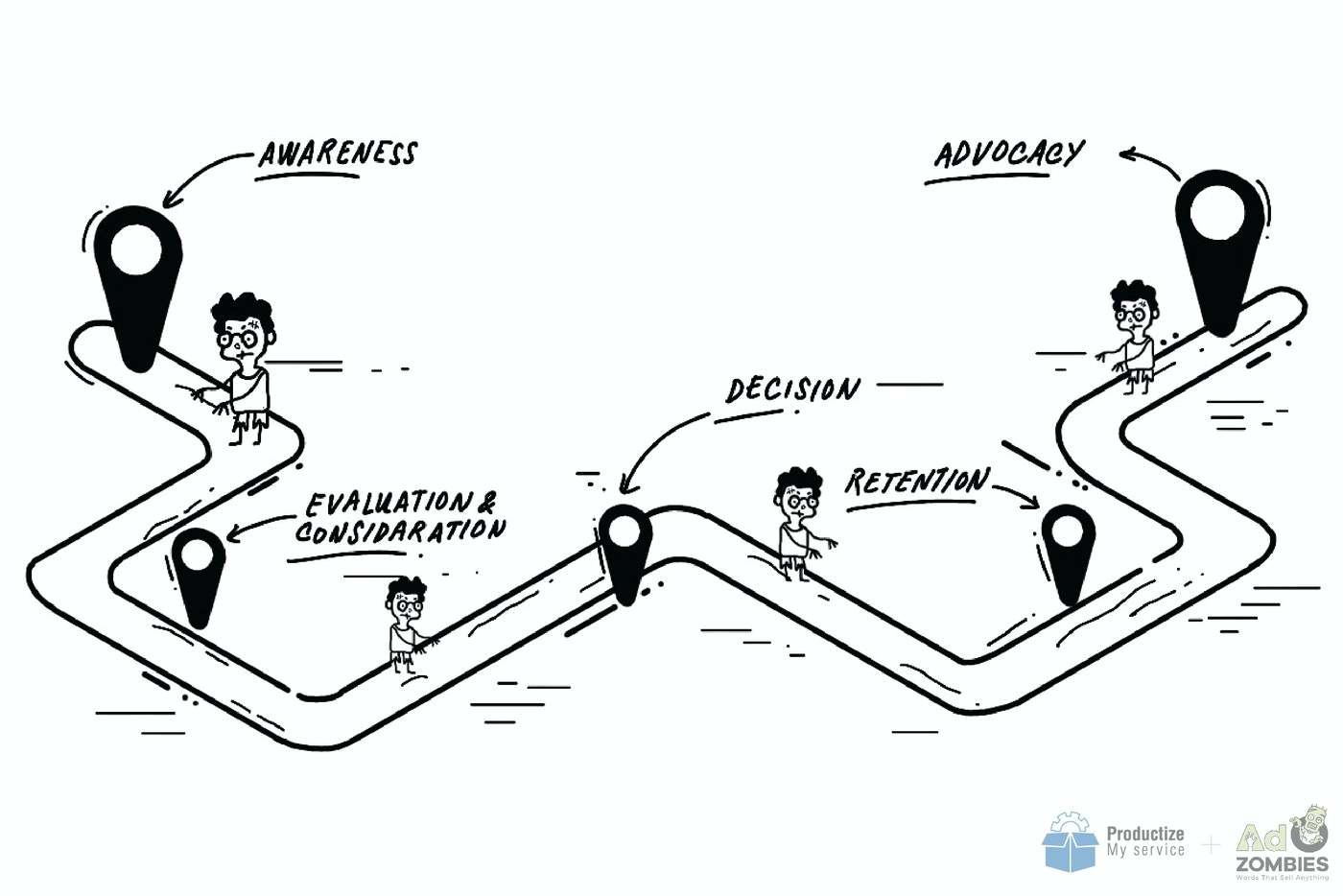 Now let's change seats and see what it is like to purchase from AdZombies as a customer. I mapped out the customer journey from my perspective below as well you will find 2 videos capturing the purchase and deliverables of my order.
Video Customer Experience Overview:
Competition:
Scribly.io
Copywriting Crew
Composely
Snap Copy
Copify
Final deliverable: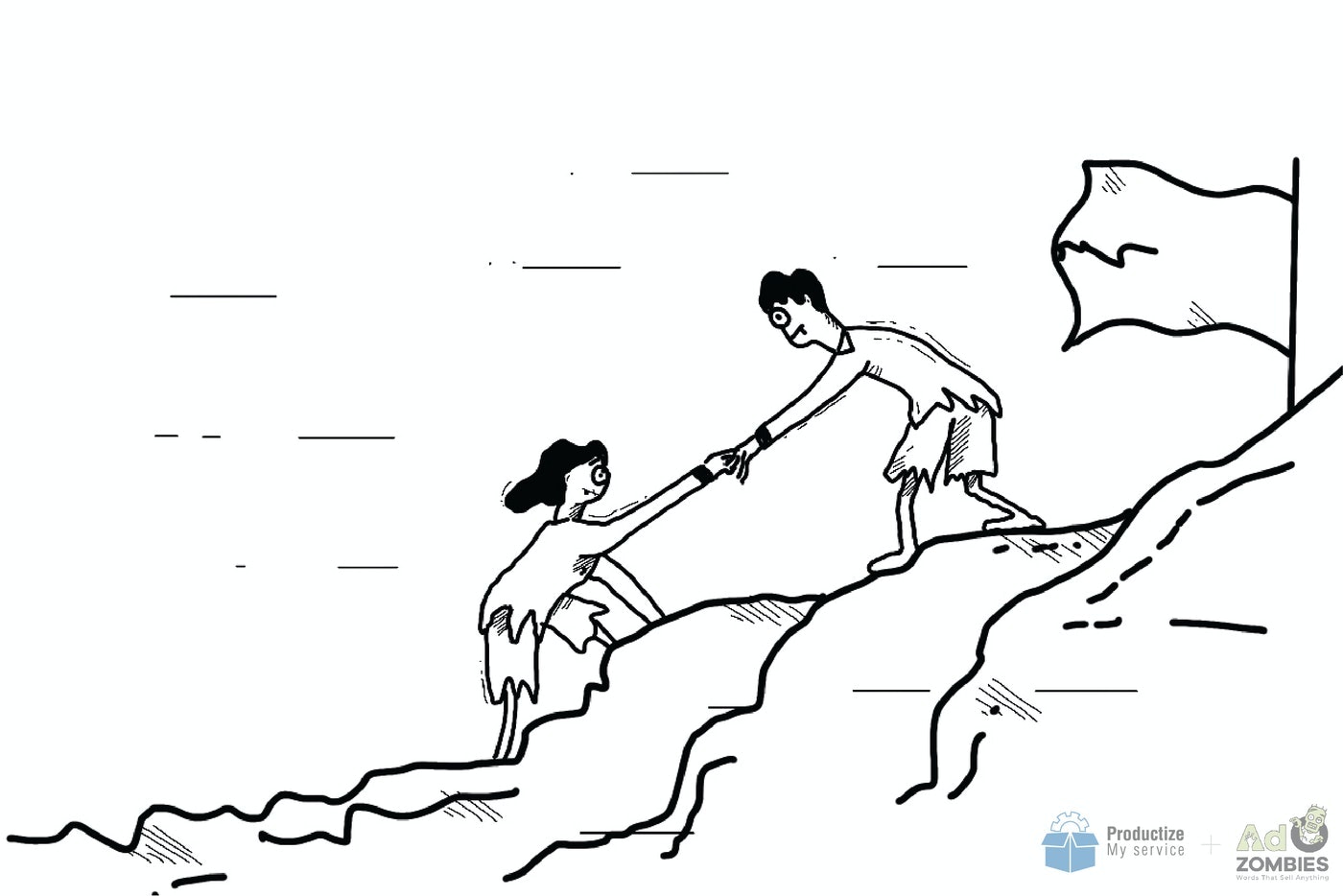 Here is the final copy I got back for the AD I requested from them:
Ad #1
Imagine you're on a soccer team where only YOU know how to dribble the ball.
Doesn't seem very fun -- or productive -- does it?
Sure, you'll have your moments of glory heading to the goal, but without a supporting cast of players who also know how to play, you're going to get that ball stolen -- and get knocked down -- again and again.
What does this have to do with business?
If you're not surrounding yourself with others who are either on the same path as you, or have already accomplished what you want to accomplish, then how will you ever reach (or score!) your goals?
We've curated a small but mighty team of Productized Advisors together to ensure business owners will gain the experience, value, networking, and involvement it will take to get their business to the championships.
With private consultation access (valued at $2k/month!), access to interviews of other Productized service business owners, guest Q&A sessions, unrestricted access to templates and resources, private databases updated weekly, unlimited networking opportunities and quarterly strategy calls -- the only thing we're missing is those matching uniforms! (We'll work on it)
Click below to learn more.
[Plus, if within 30 days you don't feel you've gained 10X the value from the group, we'll refund your money AND send you an extra $100. Nothing to lose, everything to gain.✅]
[Video or Image appears here]
Headline Option 1 (up to 50 characters/10 words):
Surround Yourself With Team Players
Headline Option 2 (up to 50 characters/10 words):
The Mastermind Group You've Been Searching For
Newsfeed Link Description (not available for all ad types):
30-Day Money-Back Guarantee
The Great 3
Productized Positioning was fantastic across the board
Like simple? They keep it simple and haven't overcomplicate things which at their size I really respect
They have decided to not have or do phone sales and just stick to the web check-out process.
The Ugly 3
Support response was very delayed and could have been more personalized and proactive. When you lean on customer support as your main line of communication you need to really dive all in.
Poor expectation setting after checkout. I was left with the questions..."What do I do and where do I go from here?" - You never want your customer feeling like this.
Poor follow-up after my order was completed. Never got an email to ask if I was satisfied, loved it, or wanted to leave a testimonial.
Thinking Time
What would a no sales close process look like for your service business?
How can you position your service business more like AdZombies to make the purchase process like buying off Amazon?
Where have you overcomplicated things in your business?
Still Hungry for more AdZombies?
Marketing Geeks | Ken Moskowitz - The Man That Can Write Words to Sell
Marketing Ink | Knock Them Dead With Killer Ad Copy from Ad Zombies founder, Ken "Spanky" Moskowitz
The SpeakEasy Podcast | Learning the Ad game from Ken Spanky Moskowitz founder and CEO of AdZombiesWWLearning the Ad game from Ken Spanky Moskowitz founder and CEO of AdZombies
Owner Bio & Info:
A little more about Ken pulled from his LinkedIn profile.
Ken 'Spanky' Moskowitz
Dad | Entrepreneur | 🔥 Bestselling Author | Speaker | Recovering White Castle Addict
Idea guy, creative driver. Creating brand awareness and positioning strategies. Grow empires.
As a 25-year broadcast vet, I've held nearly every position up the creative food chain. As a campaign creator, I've had my hands in some of the biggest brand's ad campaigns.
My ability to write creative, memorable ads, create branding that people connect with, and build long term relationships is second to none. I am not an expert in brand building, I am a highly passionate advocate for great branding.
Areas of Greatness:
Content creation
Video (creative, shooting, pre & post)
Media growth
Advertising creation and management
Branding strategies
AdZombie Social Profiles:
instagram.com/adzombies
facebook.com/adzombies
linkedin.com/company/adzombies
twitter.com/adzombies
Facebook group: https://www.facebook.com/groups/eliteadvertisers
Linkedin
Company Linkedin
--Tyler
💡Thinking Time Chief @Productized Services