Hi Productizers,
Glad to have you here!
One of the big challenges in reaching sustainable growth is connecting with the right prospects, and getting that sales pipeline from cold to piping hot on a consistent basis
Today's guest, Bruce Merrill, is helping B2B service providers solve that problem by tapping into the lead-generation wonder that is LinkedIn. The company he co-founded, Cleverly, is a LinkedIn lead generation service that helps small businesses crack the code of lead generation on LinkedIn.
Bruce and his team know who they're after, and they pursue them with razor-sharp focus. While there are a lot of agencies on the market, what sets Cleverly apart is their end-to-end service and precise targeting.
In his first podcast ever, Bruce shares the incredible story behind Cleverly, their journey to success, and the inner-workings of a successful B2B operation built entirely from the ground up to now flirting with hitting $450-500k MRR. This is a special "Breakdown" episode. Alongside the interview, you will find a more in-depth analysis of my experience as a customer buying and using the service below. Tyler
Founder: Bruce Merrill
Website: https://www.cleverly.co/
Age: 3 years as an agency and 1.5 years as a productized service
Size: 25+/- people & 100% remote
Company Email: info@cleverly.co
Company Linkedin: https://www.linkedin.com/company/cleverlyyy
Personal LinkedIn: https://www.linkedin.com/in/brucemerrill/
Bootstrapped: YES
Estimated Traffic: 60k visits per month +/-
Industry Focus: Small Businesses & Agencies
Interviewed: Yes
Irresistible Offer: First month is just $397/month + $400 Setup fee (waived) and double the leads 500 X 2 = 1,000the first month
Location: California
MRR: $450-500k MRR
15% Whitelabel

85% Direct to Customer
Service Type: Linkedin Lead Generation
Starting Price: $297/month + $400 setup fee
Short Description: Cleverly writes tested outreach copy and sends thousands of personalized messages to your dream clients on LinkedIn — getting positive responses straight to your inbox.
Founder Interview: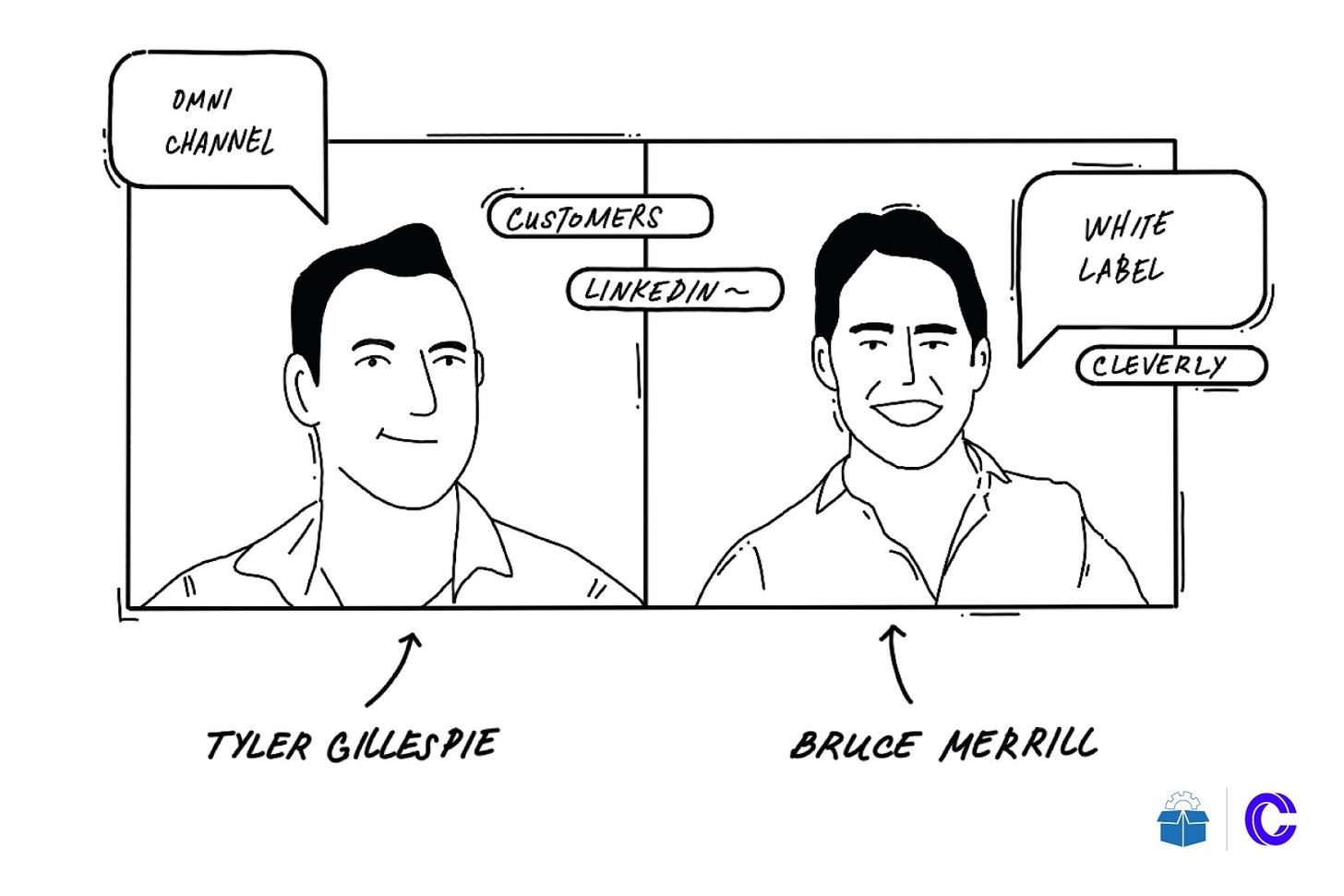 Bruce Merrill and I talk about his journey with Cleverly, reflecting on how they came to be and where they are as a company in 2020. It was actually Bruce's very first public interview he has ever done so I'm really excited to bring you this conversation. 
Golden Timestamps:
4:30 - The humble beginnings of Bruce's journey as an entrepreneur

8:44 - Running an entire sales cycle solely on LinkedIn

11:09 - How Cleverly built a productized service by optimizing the most crucial piece in B2B lead generation

16:40 - Why it's important to focus your efforts on client retention as a lead generation business

18:17 - How Cleverly doubled its lifetime value by focusing on a long-term mindset in B2B sales

23:51 - The importance of setting realistic expectations for clients

27:22 - The most critical challenge and learning that Cleverly and Bruce Merril has faced

30:00 - How Cleverly found its early success

37:30 - The biggest roadblock in expanding Cleverly's client base (hint: it's not the product!)

41:45 - How do you diversify your risk as a business, and become less channel-dependent

43:41 - Why an omnichannel approach is the best way to reach your ideal buyer, especially as a B2B business with a higher ticket size

48:15 - Some of the Cleverly team's favorite tools to run their business
Key Takeaways:
Growing a B2B business on LinkedIn is all about relationships. There's no quick-fix or easy way around it. If you're selling high-value or high-ticket services, you need to work at nurturing relationships. The quality connections you make and maintain are a great investment into your sales funnel, but it takes a long-term mindset. 

Being completely channel-dependent can be risky. Think through an omnichannel approach to reach your ideal buyer. List out the top ten channels for you to reach your ideal customer, and test them all to arrive at your best one. It always helps to diversify your risk. For example, Linkedin + Cold email + Ringless voicemail could work really well. 

Optimize, optimize, optimize. Use the data available to you to help you make decisions like choosing the right price point, how to provide excellent service to your clients, and figuring out the best way to operationalize your idea.
Resources mentioned: 
CSPO:
Ideal Customer:
Cleverly focuses on targeting B2B Agencies, Consultants, Freelancers, and Small Businesses selling services online. 
Paid Solved:
SMBs simply don't have the time, resources, energy to spend time prospecting on Linkedin. As well, a lack of knowledge around getting the most out of sales navigator
Solution Offered:
Dedicated team, strategy, software & automation to generate warm conversations with your ideal customers on Linkedin every day
Offer Made:
Done-for-you Linkedin lead generation starting at just $297/month 
Opportunity: Cleverly's targeting is extremely broad and I believe they fail to actually speak to anyone directly. An opportunity for them would be to target the messaging on their ideal avatar(s) & build out specific landing pages for those customer cohorts. 
Business Model:
Customer: Agencies, Consultants & Small Businesses
Mechanism: Linkedin Connection Requests & Personalized Messaging via (software) spaced out throughout each day Result= Warm conversations on LinkedIn with your ideal customers who want to learn more and connect
Cleverly mainly operates on a recurring subscription model with monthly billing. They also offer a variety of one-time offers to drive revenue on top of their core lead gen service. 
Services offered: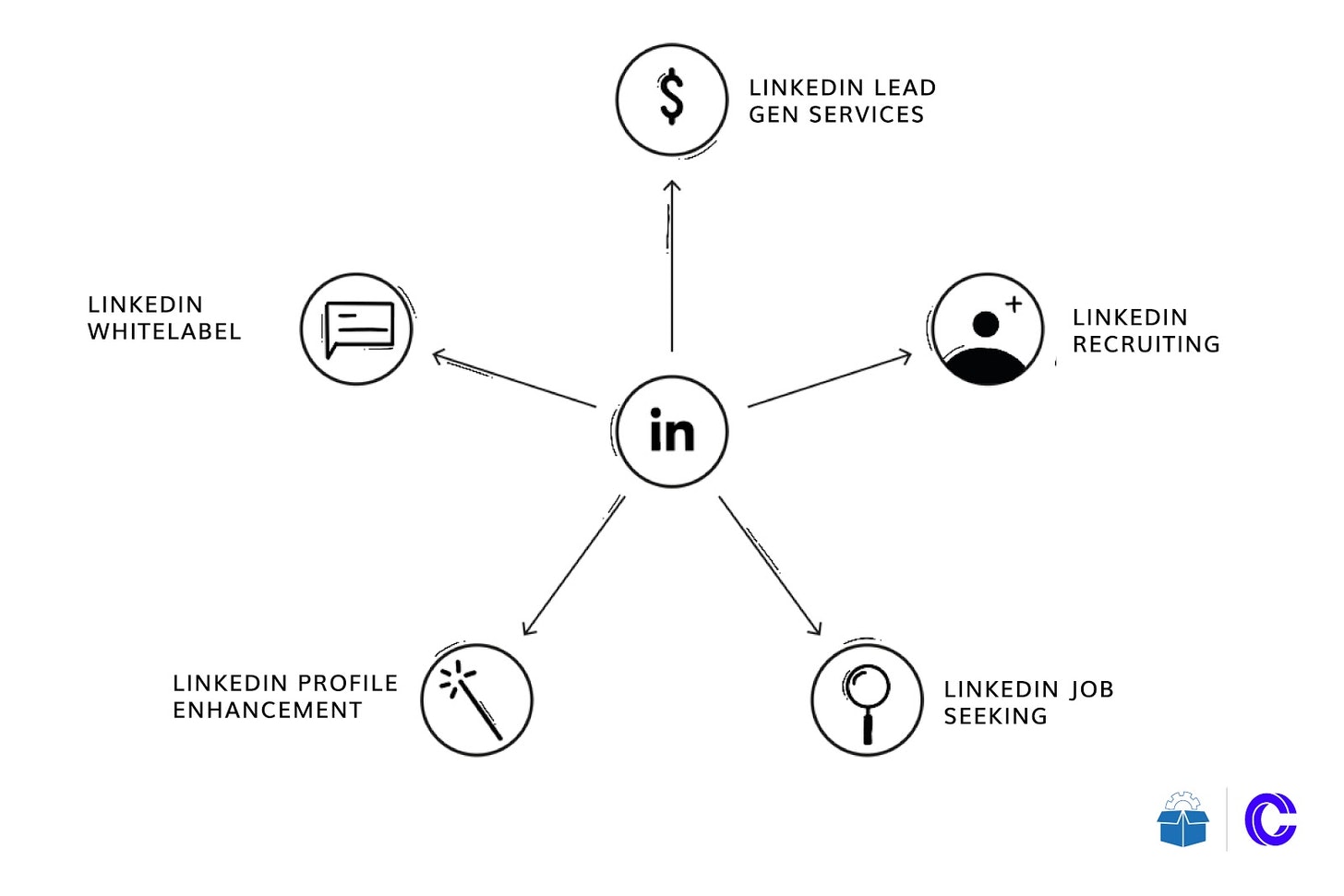 The majority of their revenue looked to come from their Linkedin Lead Gen services (85%), then (15%) coming from their white label services. The other services are very congruent with their offerings which I like and could very well potentially lead to expansion opportunities if done right. 
I however was never offered any upsells or add-on services during my time as a customer which could have been a missed opportunity. For example, I may have entertained their profile optimization service if it was suggested early on by my account manager.
Opportunity: They have a good value ladder of offerings but they just aren't being positioned in the best way or offered strategically based on where customers are at.
Operations "Under the hood":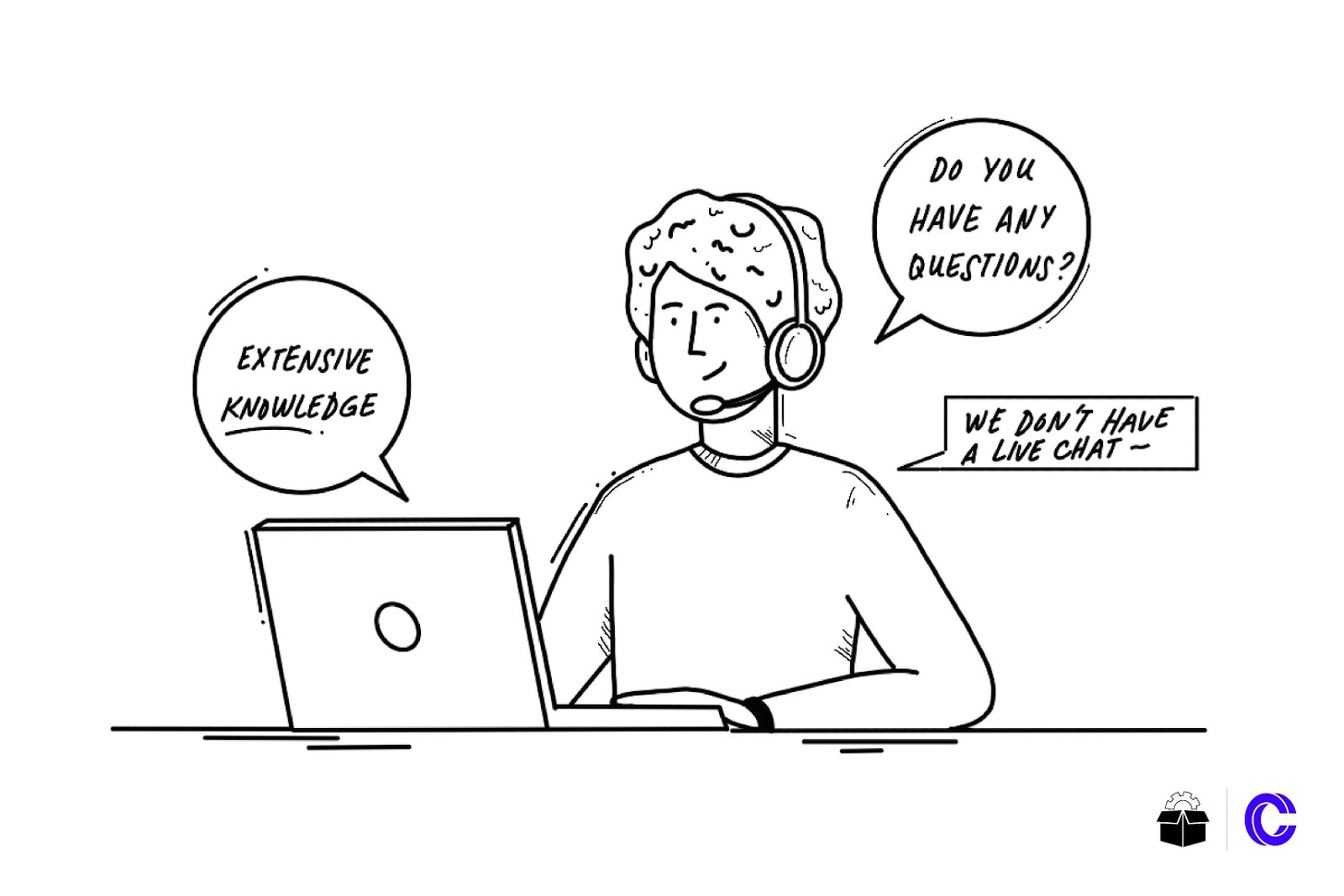 Support Speed: 
From my experience, Cleverly always made themselves readily available to consult with. Having dealt with several account managers, I have found that each and every one of their team members bring extensive knowledge and understanding of B2B lead generation to the table which I really liked. There are plenty of things that can go wrong in a LinkedIn lead generation campaign and the Cleverly team are very aware of this. There hasn't been a single question about my campaigns that they weren't able to answer - and I always ask a lot of questions! Expect some delay in responses as nothing was instant and some responses didn't come in the same day for me. 
Opportunity: They also don't have a live chat feature on their website which I think is a missed sales opportunity. Overall their team seems to have solid training and SOPs which was evident in their skill level and attentiveness. Bruce mentioned leveraging https://frontapp.com/ for helping keep all their team communication in sync. Alternatives I have seen work really well is also https://www.helpscout.com/.
Core Tech Stack Overview:
Linkedin Messaging Software (they Whitelabel) via CopilotAI for backend
Profitwell for financial analysis
Google Analytics for traffic insights
Vimeo for hosting videos, demos, and training
Webflow for CMS
Proof for social proof
Grow Sumo
Rewardful (for Affiliate Marketing)
Front App for customer messaging management 
Traffic, Sales & Marketing:
According to Similiarweb over the last 6 months, they have averaged around 60k visitors per month. 
Direct: 70% +/- of their total traffic comes direct 
This tells me they are doing a decent amount of outbound marketing themselves. It would make sense they eat their own dog food and use their LinkedIn service for themselves. 
Search: 30% +/- of their total traffic comes from search
Of that 60%+/- of traffic comes from Organic Search & 40%+/- of traffic comes from Paid
Social: Looks like it accounts for 1.9% of total traffic with Facebook being their main source. Their FB page however is pretty inactive and hasn't had a post since December 2019. 
Advertising:
Looks like they do run a variety of display ads on Google Display Network and TripleLift with some of their top publishers being: Buzzfeed, Youtube, and Yahoo. 
**However, I was not able to get re-targeted or find any examples of their display ads to show. 
Linkedin: https://www.linkedin.com/company/cleverlyyy/ads/
Facebook: It doesn't look like they are running any ads at the moment.
Referrals: 
In terms of sales and marketing, Cleverly seem to be using Rewardful for their affiliate and referral marketing campaign. As you know, I am a firm believer in the power of referrals. With a lead gen business model if you can deliver results it can be a very viral business. 
**This data was pulled from a variety of third-party online resources & tools and is as recent as the published date of this report. 
Customer Journey:
Signing up Part 1:
https://www.cleverly.co/cleverly-free-consultation
https://www.cleverly.co/thank-you
Link to "Reviews" page for social proof
Part 2: 
Competition:
The lead gen space has no shortage of competitors. When we look specifically at other productized service providers in the Linkedin lead generation space here are a few to also check out and consider.
Important Update: I would highly avoid using a company called Growth Lever. One of the worst lead gen companies I have used to date. Different Hunger, LinknLearn, and Lead Cookie are great alternatives.
Final deliverable? 
After 1 month of letting their campaign run within my very well optimized Linkedin profile the final stats, to be honest, were ok. Here were my final stats for the month: 
**They say their average connection requests are 20-30% mine was 8.2%
**They say their average reply % is 20%+ mine was 15.9% but of those total replies (13) I only have 3 of them that were actually positive. 
Insight: It's vital to track "Positive Replies" in your outbound campaign and not total replies. 
I wrote Cleverly in hopes to get their feedback on the campaign's below-average performance.
Cleverley's response was:
Cleverly: "1. Your connection request was below our average benchmark of 20% so changing your connection message would be necessary- improving your connection rate will increase the total of prospects who receive your entire drip sequence. Only 82 prospects have received your drip sequence so if we can gain more connections, more conversations will be produced."
My thoughts: Their connection messages were very basic and they weren't proactive in updating, and changing it. They relied too much on automation. The First months of any campaigns are vital to test and adjust.  
Cleverly: "2. After learning about your campaign from month 1, we evaluate what needs to be changed in order for you to see better results in month 2, like as for example, wherein your outreach sequence are you seeing the most rejections to - like are rejections coming in aftertouch 2, 3, or 4?
My thoughts: I like this and they did have check-ins but again the campaign was not performing good early on and they lacked making early changes to improve it. Setting better expectations earlier on and even during Sales and Onboarding would have helped me be more open to longer term adjustments.  
Cleverly: "3. We did not receive a response to our 7-day check-in, and I can see that Cam reached out on August 20th to give you some advice about your LinkedIn profile because he noticed your connection rate was a bit below average. We should have also suggested changing your LinkedIn banner as well. Recommendations to change LinkedIn banner:
- photo from a hobby (hiking, travel, etc.)
- photo of a local landmark (Golden Gate Bridge)"
My thoughts: Their check-ins were good but they lacked follow-up. I was busy like many people and couldn't respond. Since their check-ins were "automated" they missed the opportunity to proactively fix issues. As well, they didn't follow up at all when they saw I didn't respond. 
The Great 3
They did a great job onboarding and taking me through the sign-up process. I had great clarity of what was next and what I needed to do. This is extremely important and unfortunately not common during most onboarding processes. They leverage videos and tutorials very well.

Knowledgeable team. You could tell their team was actually very skilled and trained well. Smart people + great processes = great outcomes.

Great social proof and positioning. Most other competitors in the market are 3-4X more expensive and aren't positioned as well. They have done a great job of positioning themselves, value proposition, and have a great war chest of reviews + testimonials. It makes it hard to say no to their promise & pricing. Which explains their rocketship growth past $400k MRR in 1.5 years. 
The Ugly 3
Required me to sign up for my own Linkedin sales navigator account ($79 extra). Even though this is a common extra cost, there are other companies who actually don't use your LinkedIn account and have SDRs with their own accounts reach out on your behalf. This saves you money and avoids potentially spamming your LinkedIn account (which is often overlooked).

They relied too much on automated follow-ups and didn't proactively touch base and or call me to fix issues that could have kept me on for much longer.

The setup process from me paying to the campaign getting launched took far too long from what it should have. 7+ days. They set good expectations here but after seeing what they actually did to get my account ready it was something that could have been done in 1 business day. 
Takeaways: 
Where can you shorten the "time" or "friction" during the sign-up and onboarding process within your service business? Remember: The quicker you can get someone their desired result after they have paid you the better.

Think about where and how you can proactively follow up in your customer journey process. Don't just rely on automated email follow-ups as it can actually work against you if you aren't careful. Leveraging automated reminders for actual manual follow-ups to overcome this. 

Is there a second-order consequence of using an outbound strategy like this that you aren't aware of? I mentioned "Linkedin Spamming" your profile, but the same can be done with cold email, etc. As more people do it it will be harder to stand out and easier to damage your "first" impression and company image. For me, I have always leaned towards bringing more personalized, and quality over quantity tactics. Something to think about if this strategy is something you want to leverage

Where can you fast track your success by leveraging other people's software? Not only does Cleverly build on top of Linkedin but they also completely Whitelabel the tech back end for all their messaging with Copilot AI. Bruce focused on his sales/marketing strengths and leveraged other software for the rest of the backend (smart). 
Hiring triggers. In our interview at 37:45 bruce talks about having hiring triggers when needing a new account manager for every 250 customers. You can apply these hiring ratios to a lot of areas of your business and they can really help as you scale up and even down to know who and when to hire certain people. Look at key roles like Customer Success or Project management first.
Still Hungry? Learn More
I hope you enjoyed this Productized Breakdown! Next week, we have the founder of Designjoy.co, Brett Williams, talk to us about how he runs a $40K MRR productized service as the sole employee.
Until then!
--
Tyler
💡Thinking Time Chief @Productized Services