Luiz Cent is the Head of Sales at Mailshake, a software company that provides businesses with the automated tools to optimize their cold email outreach process.
Luiz, as a sales and lead generation specialist, has incredible insight into how you can prioritize quality leads in today's marketing environment.
Grab some popcorn and enjoy :)
--Tyler
Exclusive Masterclass:
Golden Timestamps:
1:50 - How Mailshake has functioned as a sales team to solopreneurs 

3:09 - The need for a multi-touch sales strategy

6:09 - The most efficient touchpoint sequence

6:58 - Examining your selling cycle to determine which touchpoints work

7:50 - Where to start your touchpoint sequence 

16:19 - How to organize and scale up your email outreach plan

18:00 - The most important change in email outreach

19:00 - A step-by-step plan to get your first set of leads

25:00 - How to conduct simple A/B testing to improve your outbound communication

26:00 - Potential email funnel sequences that work

28:45 - Things to absolutely not do when cold-emailing your leads

32:00 - Go for the 'NO!'
Key Takeaways:
Details matter: In the world of lead generation, putting in the extra work can have massive long-term dividends. This may be as easy as writing a personal intro line, making the email subject more engaging, or hiring someone else to save you the effort - paying attention to the details makes all the difference.

Test, test, test: Test everything. Test the length of your email, test which touchpoint works best, test which opening lines have the highest success. There is no substitute for statistically-proven results. It can take over 1000 emails to get there, but do it!

Quality over quantity: Gone are the days when you could send thousands of standardized emails a day and expect a success rate that will meet your targets. People have gotten smarter, email platforms have gotten sharper -- the only way to guarantee a good conversion rate is by carefully listing out quality leads, even if it's just 50-100. 
Business Model Breakdown: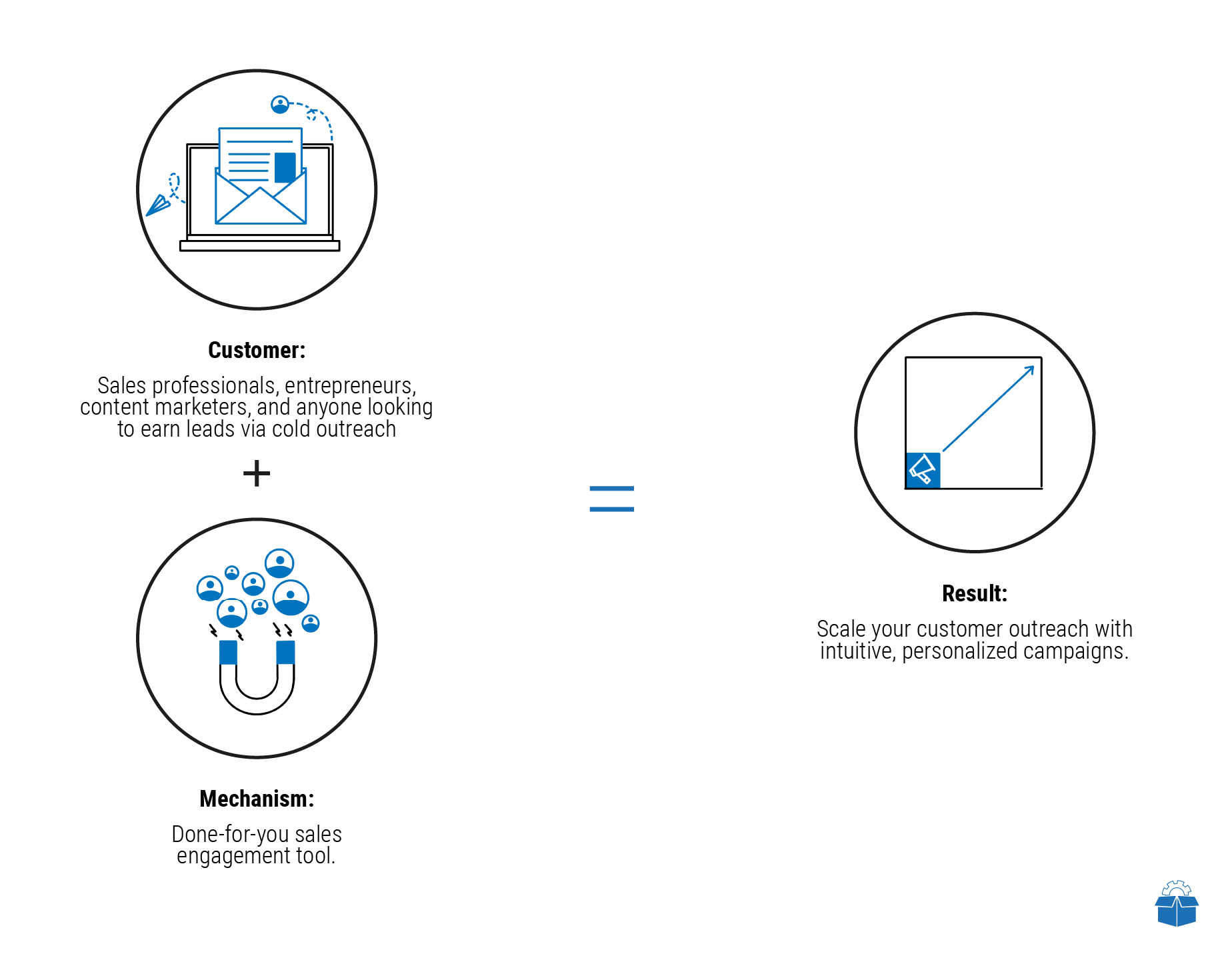 Customer: Sales professionals, entrepreneurs, content marketers, and anyone looking to earn leads via cold outreach
Mechanism: Done-for-you sales engagement tool
Result: Scale your customer outreach with intuitive, personalized campaigns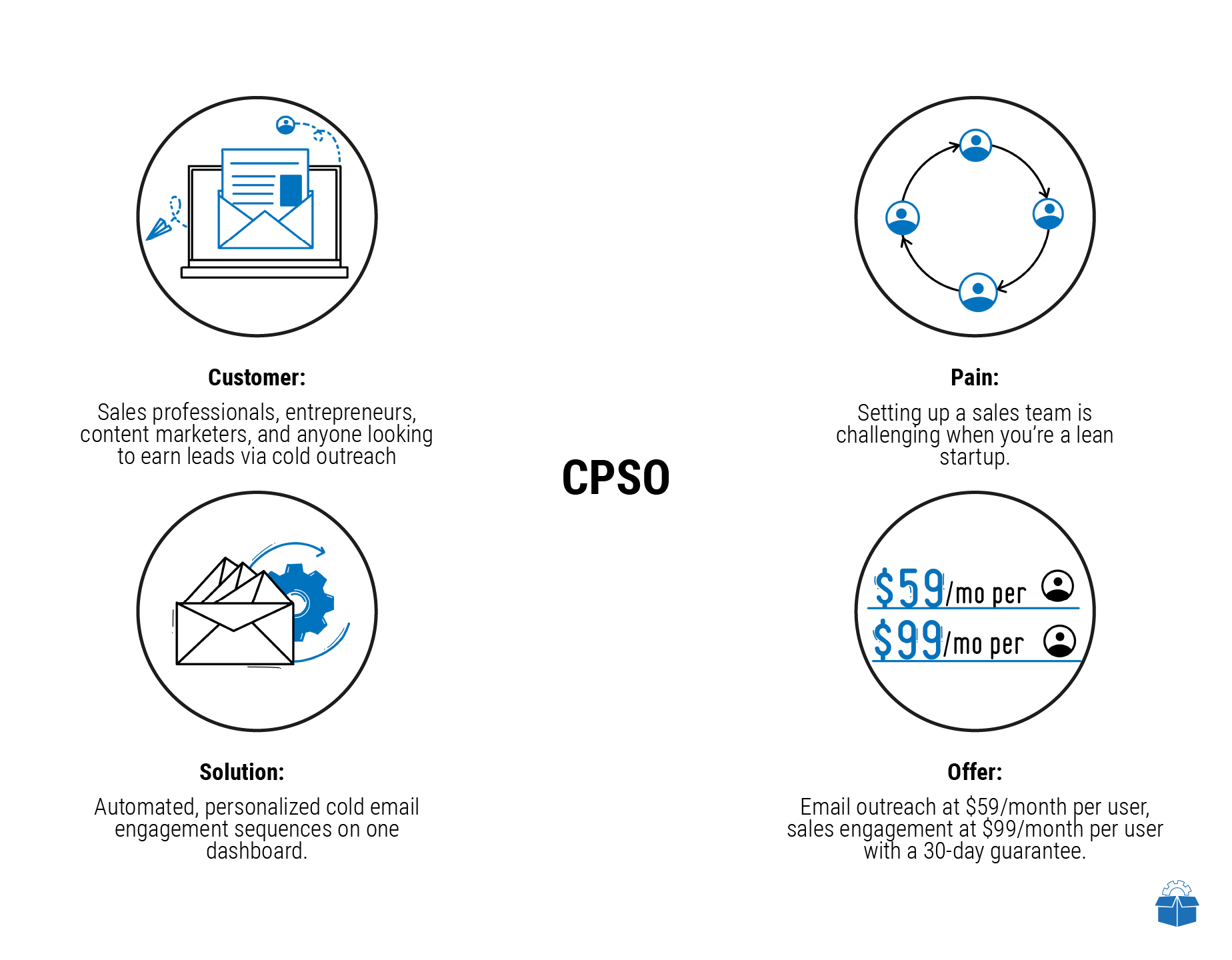 Pain: Setting up a sales team is challenging when you're a lean startup
Solution: Automated, personalized cold email engagement sequences on one dashboard.
Offer: Email outreach at $59/month per user, sales engagement at $99/month per user with a 30-day guarantee
Modern outreach requires razor-sharp focus and rigorous testing
Big Idea: Quality over quantity, it's better to focus and build a well-curated list of potential leads that you KNOW will be likely to convert. The time for shooting in the dark is over -- if you're looking to run a successful productized service, put your efforts into deep research, knowing your customers, and tailoring your offering to serve them better.
Thinking Time + Action:
Can you list two or three areas where you can personalize parts of your outreach? If you don't have the time to do it, consider ways you can efficiently get the work done.

Are there assumptions you might be making about what works that you haven't yet tested? While we can't ever get rid of bias entirely, it's important to test our assumptions, cover our blind spots, and pin down what works in the real world.

Is the approach you take to outbound communications deep or wide? Do you prefer to keep it focused and targeted, or broad? Spend some time analyzing what steps you can take to drill down and focus your efforts to optimize your outreach.
Resources:
Next week, we'll be joined by Brian Casel, the Founder of Audience Ops to talk about building a done-for-you content marketing service through deep customer research, educational email campaigns, and creating content.
Stay tuned!
💡Thinking Time Chief @Productized Services