Hello Productizers!
I have a treat for you - our guest for today is Brian Casel of AudienceOps.
Audience Ops is a content marketing business that offers a done-for-you blogging service. They're focused on helping B2B online companies grow their audience and customer base. Brian is a serial-entrepreneur with great insight into running and scaling up a successful productized service business so there's plenty for us to unpack!!
Exclusive Interview:
*I apologize in advance for my poor audio. This was recorded before I got my new mic.
Golden Timestamps:
1:13 - What problems does AudienceOps solve

11:26 - From selling a productized service to starting the next one!

13:00 - The benefits of a Done-For-You service

16:35 - Working with a 25-member remote team

17:10 - How to position your pricing

19:00 - You need a long-term strategy for content

21:00 - The biggest learning for AudienceOps

23:00 - A long-term mindset for your team is important too

26:00 - Early success for AudienceOps

30:00 - The trick to growing your network - community!

32:14 - You don't need a lot to get a productized service business going

33:40 - The challenges in scaling up AudienceOps
Key Takeaways:
Think long-term: It's important to think long-term and look at providing long-term value not just for your business, or your clients, but your employees too. This kind of mindset will carry you through seasons of unpredictability.

Everyone has a network: You may not be a pro at networking, you don't necessarily have to be either. Reach out to those you know, the people that form your immediate network. Attend events, get facetime with people in your industry.

Getting off the ground is easier than you think in the productized service business: Unlike many other businesses that require a large amount of starting capital, research, and set-up costs, a productized service can get off the ground quite quickly and easily.
Business Model Breakdown:
Customer: Online businesses looking to grow their customer base
Mechanism: Done-for-you blog, podcasts, and case study content development
Result: Reach more customers, expand your business, grow your brand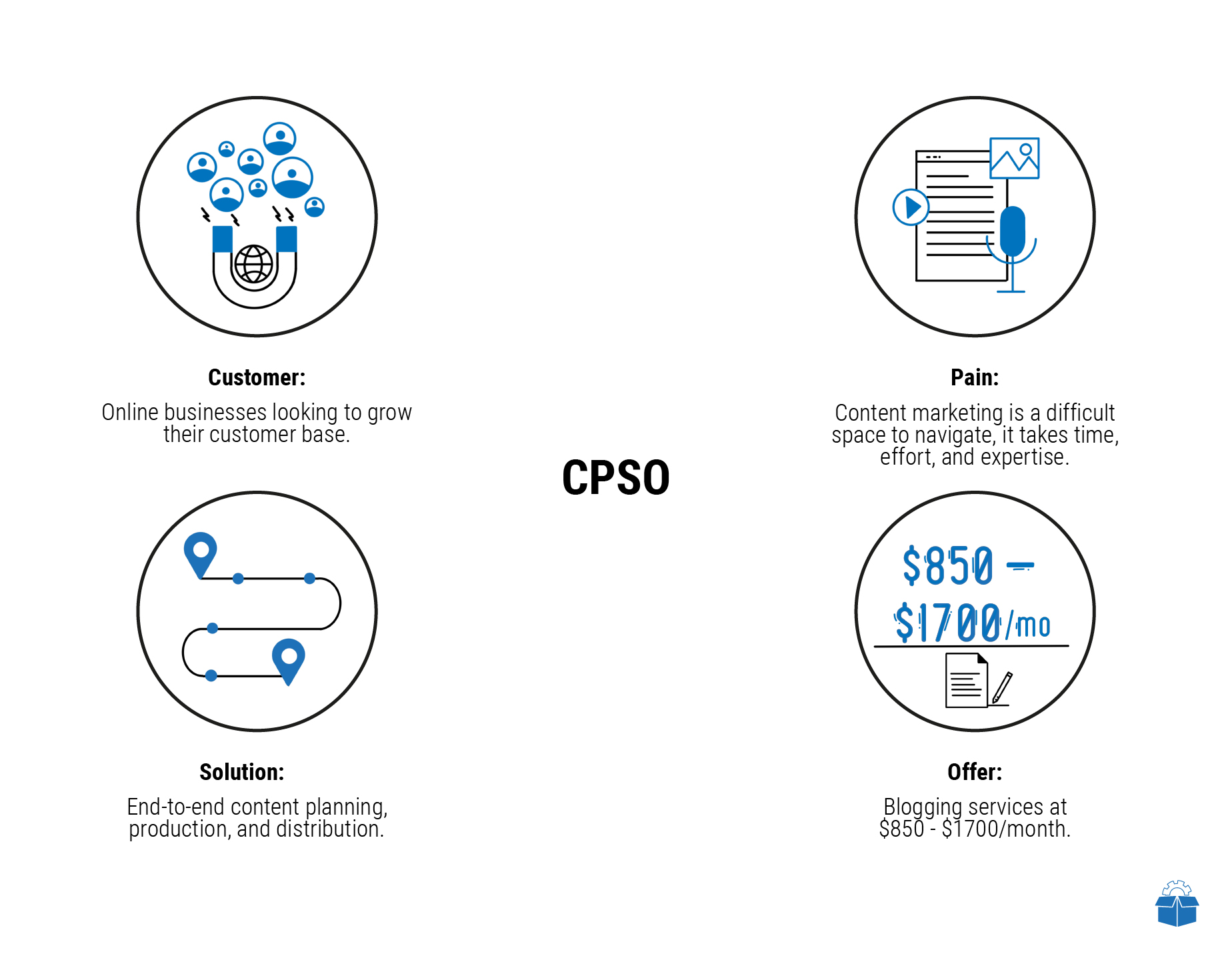 Pain: Content marketing is a difficult space to navigate, it takes time, effort, and expertise.
Solution: End-to-end content planning, production, and distribution
Offer: Blogging services at $850 - $1700/month
Never underestimate your network
Big Idea: Your network is the first place to go to when refining your productized service business and getting it off the group - not just because they may be your potential customer base, but it provides an incredible opportunity to solicit honest, unencumbered feedback about what may work, where you can improve, and where your potential blind spots are. Leverage your network!
Thinking Time + Action:
If this is your first productized service business, or if you're currently building one -- what are some ways you can think long-term? What does that look like for you today? List out a few decisions you made in the last month that will provide long-term value.

Do you enjoy networking? What are some aspects of it that you find difficult? With the changing work dynamic, there are all sorts of ways to network. Podcasting, virtual meetups, online conferences -- find some ways to expand your network this week.

Is it your goal to sell your productized service within the next 5 years? Do you have an exit plan in place? Part of AudienceOps' success comes from Brian's expertise in running these types of businesses. What would your business have to look like to get your dream exit? What do you need to do to get it there?
Resources:
Next week, we'll be joined by Jesse Forrest of Copywriting Crew, a service that provides affordable, quality content written by expert native-English copywriters in a matter of days.
He is regarded as one of Australia's leading copywriters with over 10 years of experience in writing for hundreds of satisfied clients from over 150 different industries.
Stay tuned!
💡Thinking Time Chief @Productized Services