Hello Productizers,
Got a good one for you today.
There's a bunch of swiss cheese information out there about how to grow your business with paid advertising —  it's got a lot of holes in it.
The "gurus" make it sound like there's some magic targeting trick or ad template shortcut that will make you bucketloads of money.
There isn't.
If you really want to grow your business with advertising there is a lot that you have to get right.
With me this week is advertising expert Brice Gump — founder and CEO of Major Impact Media. 
Over the last 5 years, Brice Gump and his agency have helped dozens of established online businesses acquire thousands of customers through effective advertising.
He shares his journey working with digital products & course creators and helping them to grow their sales with paid advertising on Facebook and YouTube.
Lots of insightful and inspiring stuff with Brice. Enjoy!
Golden Timestamps
0.33 - The types of problems that people pay Brice and his agency to solve.
4:05 - How his business model is set up, how he charges, his team, and the number of clients.
5:20 - Best advice and tips for businesses that want to break into online advertising.
7:05 - The one thing you need to get right to increase traffic and lead flow.
8:52 - How much revenue Major Impact Media makes per month.
11:13 - Learn how to position yourself in the market, charge higher prices, and work with high-end businesses as a service-based business.
13:23 - How to get your first $1000 in revenue.
17:07 - Best go-to resources and people that have helped Brice grow Major Impact media.
19:32 - Get to know what would break if your business tripled overnight and how to fix it.
23:08 - How to grow your business using referrals.
Key Takeaways
1. Develop relationships with people and they'll want to work with you and help you move your business forward. As a business owner, you should build professional relationships. Relationship building from a business standpoint can help you retain current customers, get new customers, and manage your reputation. You should also seek to build relationships with your employees and members of your community.
When starting a business, you'll need to acquire a lot of skills at different times. One of the best things you could adopt is just-in-time learning. Learn what you need to learn when you need to learn it.
2. Build your company's knowledge base. Build systems and processes to internally hire and train people.
Reports show that businesses that have implemented a knowledge base see increases in collaboration, productivity, and employee engagement. The benefits of a knowledge base have extensive effects. When your employees are empowered to do their jobs faster and more efficiently, your company's customers and partners benefit as well.
3. You need to get testimonials and case studies within the first 60-90 days when they are very happy. Ask for testimonials when you're getting great results for your clients. It's not advisable to ask for a testimonial after you've lost that client.
Brice's Business Model Breakdown: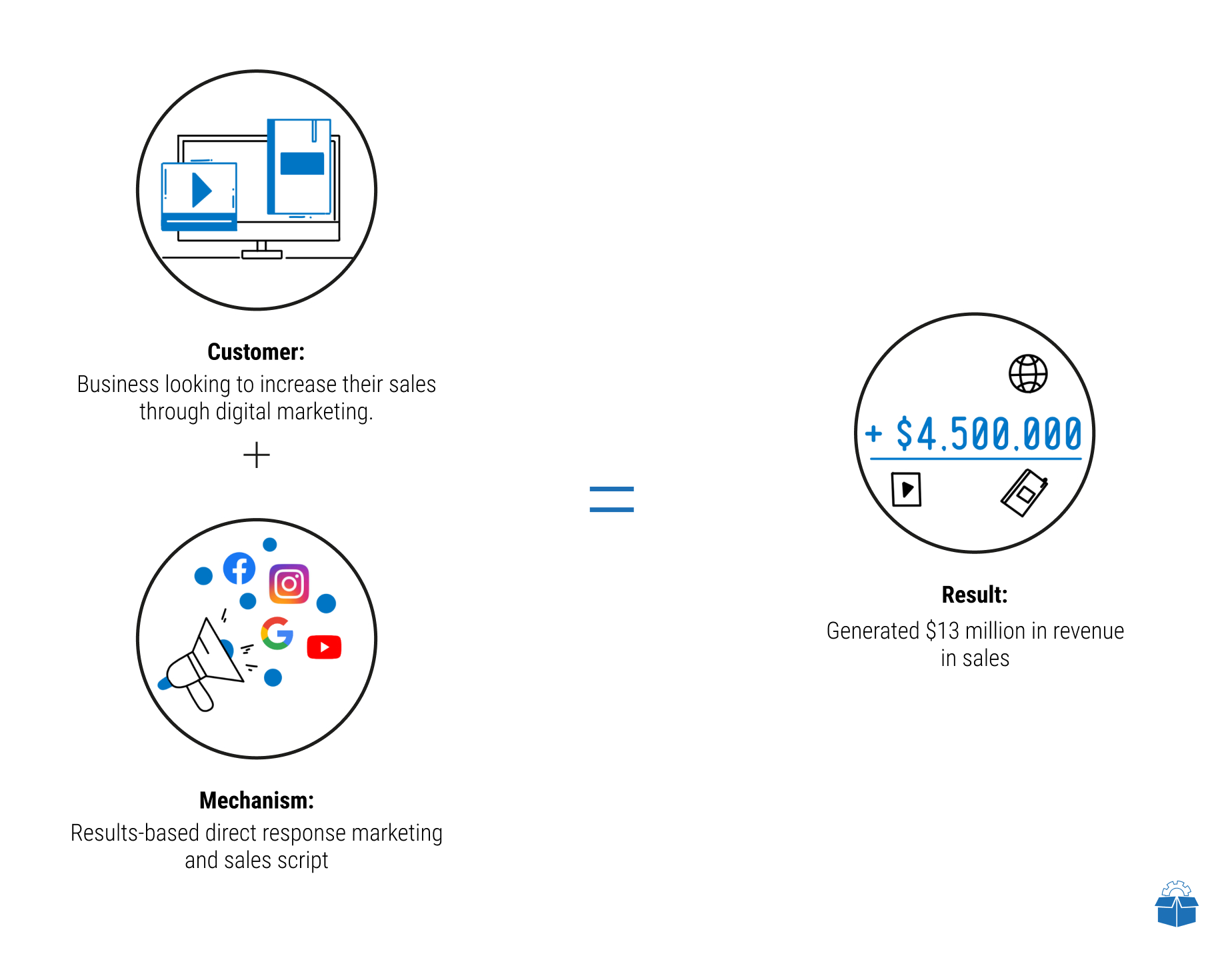 Customer: Digital products and course creators  + 
Mechanism: Paid advertising on Facebook, Instagram, Google, and YouTube = 
Results: Over $4,500,000 in digital products, online courses, and high-ticket programs.
Services
Paid Advertising

Measurement

Consulting
CPSO:
Customer: Digital products and course creators
Pain: How to get customers from advertising
Solution: Create a consistent and predictable flow of high-quality traffic using multiple proven campaigns on Facebook, Instagram, YouTube, and Google while positioning branding to position you as a leader in the industry.
Offer: Ad strategy, developing your ad copy and graphics, video editing, reporting, results tracking, and campaign optimization for a monthly retainer between $5,000 – $10,000.
Big Idea: Capitalize on paid advertising to grow your sales
It's not just about getting your brand out there but making sure you stay profitable while you do it. What sets successful companies apart is the way they track, measure, and make decisions based on the data.
Consider an advertising agency like Brice's to launch, optimize and scale your advertising campaigns, so that you can focus your energy on your business.
Thinking Time + Action
Do you have an established online business with a converting front-end offer like an evergreen webinar, self-liquidating offer or sales call funnel? If not, start working on one.
Are you capitalizing on referrals as a means of growing your business? 
Getting glowing client testimonials and rave reviews can be boiled down to a single word … asking. Are you proactive with asking? 
By now you probably understand the role that high-quality traffic plays to acquire new customers so that your company can maximize customer value and revenue over time. What steps are you taking towards this?
Do you have a knowledge base in place? If not, the sooner you build one the better for your online business.
Brice Gump Resource Links
Additional Resources
People Mentioned
Thank You for Listening!
It was great having you join us again this week. 
Have some feedback you'd like to share? Leave a note in the comment section below!
Also, please leave an honest review for this podcast on…..Ratings and reviews are extremely helpful and greatly appreciated! If you didn't know, they help in the rankings of the show, and I read each and every one of them.
If you have any questions, please feel free to shoot me an email.
And finally, don't forget to subscribe to the show on ……… to get automatic updates.
A huge thank-you to Brice for joining me this week. Until next time!
--Tyler
💡Thinking Time Chief @Productized Services